Public Transport system in Australia
Public Transport in Australia is convenient especially for students who do not own cars. Within the Metropolitan Areas, trains and buses are plenty as well as stops and stations are situated at convenient places for students to travel to and from school. Every state in Australia has its own public transport system, and there are slight differences between each.
Melbourne, VICTORIA
Not only does Melbourne's trains and buses aid with convenience of transport but there are also trams running throughout the city and into the outer suburbs of Melbourne. If you travel on any of Victoria's public transport system, you must be in possession of a Myki card.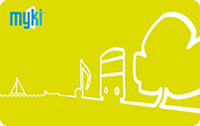 Sydney, NEW SOUTH WALES
The Opal smart card is the ticketing system for public transport services used in Sydney as well as the New South Wales region. It is valid on all bus, rail, light rail and government ferry services.
Brisbane, QUEENSLAND
The Go smart card is lets passengers travel with ease and convenience on all bus, train (including Airtrain), ferry and tram services in South East Queensland.